fight girl battle world: the world premiere
In March of 2008, Vampire Cowboys unleashed one of its most crowd-pleasing and critically acclaimed shows to date, the sci-fi spectacular FIGHT GIRL BATTLE WORLD. Playing to sold-out crowds and standing ovations, the show utilized Vampire Cowboys' award-winning blend of stage combat, puppetry, and multi-media to create a uniquely cinematic experience for the live stage.
WINNER Best Choreography, Best Costume Design, and Best Acting Ensemble
by the 2008 New York Innovative Theatre Awards!

Nominated Best Production of a Play,
Best Original Full Length Script, Best Direction,
Best Featured Actor, Best Sound Design,
by The 2008 New York Innovative Theatre Awards

Henry Hewes Design Award nominee for Notable Effects in Puppet Design
"The latest lark by the proudly lowbrow Vampire Cowboys Theater Company, "Fight Girl Battle World", dispenses with the hipster distance and indulges the embarrassing passion of an obsessed fan. It's theater for sci-fi nerds."
– Jason Zinoman, THE NEW YORK TIMES

"Relentlessly entertaining and flawlessly executed! It is very exciting and vital work that should not be missed. NYTheatre.com Critic's Pick!"
– Daniel Kelley, NYTHEATRE.COM

"Exuberant and hilarious. A delicious intergalactic theatrical space ride."
– Andy Propst, THEATERMANIA

"An action-packed sci-fi saga that blends punch-ups and parody into one delicious mix."
– Tom Fay, SHOW BUSINESS WEEKLY

"I laughed so hard I nearly hurt myself. "Fight Girl Battle World" is an astounding piece of work."
– Duncan Pflaster, BROADWAYWORLD

"The Vampire Cowboys are offering their geek-chic audience exactly what it craves: a noble quest, adorably flawed heroes, villains with funny accents, and superbly choreographed stage fights."
– Tatyana Gershkovich, VILLAGE VOICE

"An endearingly low-rent pastiche that's full of charming kung-foolery."
– Sam Thielman, VARIETY

"This show is what Science Fiction (and entertainment in general) is meant to be."
– Darrell Schweitzer & N.E. Lilly, SPACEWESTERNS.COM

"Vampire Cowboys Theater, the undisputed king of the action parody genre, has huge balls and they know their audience! Rarely does theater get so blatantly entertaining. New Theater Corp Top Pick!"
– Aaron Riccio, NEW THEATER CORPS

"Gleeful enthusiasm, fertile imaginations, and boundless energy! A Backstage Critic's Pick!"
– Ron Cohen, BACKSTAGE

"An enthusiastic show that impressively balances gravity with camp, from the dialogue to the Vampire Cowboys' signature soundtrack-scored fight scenes."
– Amanda Cooper, FLAVORPILL

"Vampire Cowboys has once again created a highly charged, fast-paced work of physical ingenuity along with an abundance of laugh out loud moments!"
– Drew Gilchrist, HI! DRAMA

"A hyperspace of dorky delights. "Fight Girl Battle World" exists as its own fresh entity; a whimsical new addition to the genre with enough theatrical special effects to make George Lucas seriously reconsider his obscene ILM budget."
– John Del Signore, GOTHAMIST

""Fight Girl" is probably the most fun show you'll watch this year. OffOffOnline Critic's Pick!"
– Samantha O'Brien, OFFOFFONLINE

"Go see it. You'll have a great time. You can buy me a beer for recommending it."
– Jimmy Aquino, COMIC NEWS INSIDER
Production: March 6th - 30th, 2008 at Center Stage, NY
Playwright/Fight Director: Qui Nguyen
Director: Robert Ross Parker
Producer: Abby Marcus
Scenic/Lighting Designer: Nick Francone
Costume Designer: Jessica Wegener
Sound Designer: Patrick Shearer
Puppet Design/Construction: David Valentine
Assistant Stage Managers: Emily Edwards, Lex Friedman, Sharon Walsh, & Stephanie Williams
Publicity/Press Rep: Jim Baldassare
Photographers: Jim Baldassare, Qui Nguyen, Theresa Squire
Cast: Elena Chang, Noshir Dalal, Jon Hoche, Kelley Rae O'Donnell, Melissa Paladino, Maureen Sebastian, Andrea Marie Smith, Paco Tolson, Temar Underwood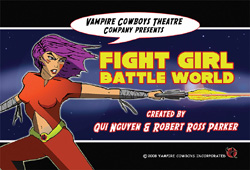 new york comic con 2008
Most of the year, Vampire Cowboys spends its energy bringing the wild world of comic books, pop-culture, and geeky fun to the land of theatre. However, one weekend of every season is devoted to the opposite. In April 2008, Vampire Cowboys returned to the New York Comic Con to play with their like-minded geeky peers and exhibit some new fights at NY's biggest convention for all things pop-culture. This year's fight force featured talented Rabid Vamps: Alexis Black, Jon Hoche, Tim O'Leary, Bonnie Sherman, Andrea Marie Smith, & Christopher Yustin.

Production: April 18 - 20, 2008 at the Jacob Javits Center
Fighters: Alexis Black, Jon Hoche, Tim O'Leary, Bonnie Sherman, Andrea Marie Smith, Christopher Yustin
Booth: Alexis Black, Pete Boisvert, Chris Brown, Stephanie Cox-Williams, Emily Edwards, Lex Friedman, Jon Hoche, Abby Marcus, Tom Myers, Kelley O'Donnell, Tim O'Leary, Qui Nguyen, Robert Ross Parker, Daniel Rech, Maureen Sebastian, Patrick Shearer, Bonnie Sherman, Andrea Marie Smith, Paco Tolson, Temar Underwood, Jessica Wegener, Christopher Yustin
| | | | |
| --- | --- | --- | --- |
| | | | |
| | | | |
the saturday night saloon
In September 2007, Vampire Cowboys launched its extremely popular series, THE SATURDAY NIGHT SALOON, a free monthly party at the company's studios which included ongoing serialized plays by scores of NYC hottest young writers, directors, and actors. Created to be a theatrical playground for VC's extended family artists from companies such as Ma-Yi, LAByrinth, 2G, Developing Artists, The Brick, Nosedive, Piper McKenzie, and others, every performance included cheap drinks, capacity crowds, and an exciting atmosphere for new artistic collaborations. The five shows for the 2007-2008 SALOON were (in order of performance):
JIMMY STARSHOOTER MUST GET LAID (A Sci-Fi Sex Comedy) by Robert Ross Parker
PATSY STUFFLEBEAN MEETS THE KENTUCKY DEMON by Webb Wilcoxen
BUILT TO LOVE (A Robo Rom-Com) by The Ma-Yi Writers Lab
PINKIE by James Comtois
LADY CRYPTOZOOLOGIST by Jeff Lewonczyk

Production: September 2007 thru February 2008 at The Battle Ranch in Williamsburg, Brooklyn
Producers: Abby Marcus, Qui Nguyen, & Robert Ross Parker
Writers: Dustin Chinn, James Comtois, Mrinalini Kamath, Michael Lew, Jeff Lewonczyk, A. Rey Pamatmat, Robert Ross Parker, Webb Wilcoxen
Directors: Pete Boisvert, Nathan Lemoine, Jeff Lewonczyk, Qui Nguyen, Jill DeArmon
Performers: David Anzuelo, Gyda Arber, Liche Ariza, Jessica Asch, Oscar Avila, Aaron Baker, Lisa Barnes, Jason Robert Bell, Pete Boisvert, Ian Brownwell, Alexis Black, Hope Cartellis, James Comtois, Rebecca Comtois, J. Eric Cook, Claro de los Reyes, Sharon Eisman, Alex Flores, Marguerite French, Richard Harrington, Robert Honeywell, David Gelles-Hurwitz, Graeme Gillis, Sara Guanieri, James David Jackson, Russell G. Jones, Jordan Kamp, Heath Kets, Jinn S. Kim, Jamie Klassel, Mark Landers, Nathan Lemoine, Jeff Lewonczyk, Florencia Lozano, Marsha Martinez, Jason Liebman, Doua Moua, Qui Nguyen, Kelley Rae O'Donnell, Rebeka Pinon-Cassidy, Phillip Roebuck, Daniel Rech, Robin Reed, Melissa Roth, Patrick Shearer, Bonnie Sherman, Brian Silliman, Adam Swiderski, Andrea Marie Smith, Paco Tolson, Temar Underwood, Ben VandenBoom, Aaron Weiner, Nathan Whitmer, Elizabeth Hope Williams, Max Woertendyke, Christopher Yustin, Courtney Zbindel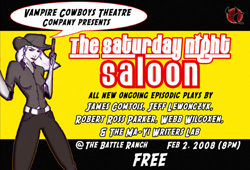 | | | | |
| --- | --- | --- | --- |
| | | | |
| | | | |
| | | | |
revamped: sci-fi fairy tales
In November 2007, Vampire Cowboys continued their sixth season with the third annual installment of REVAMPED. With this year's theme, SCI-FI FAIRY TALES, six of NYC's hottest writers blew up the Battle Ranch stage with a slew of new bizarre allegories. The night, sponsored by The Onion, also included a recap of short animated films from Vampire Cowboys' past shows and music by VC's own Temar Underwood, Dan Deming, and Andrea Marie Smith.

Production: November 11, 2007 at The Battle Ranch in Williamsburg, Brooklyn
Writers: Carla Ching, James Comtois, Jeff Lewonczyk, Rob Neill, Eric Sanders, Lloyd Suh
Directors: James Comtois, Dominic D'Andrea, Matthew Hancock, Jeff Lewonczyk, Eevin Hartsough, Michael Lew
Producer: Abby Marcus
Performers: Katie Brack, Hope Cartelli, James Comtois, Dan Deming, Graeme Gillis, John Hart, Greg Hildreth, Emily Hyberger, Matt Johnston, Jeff Lewonczyk, Marsha Martinez, Nick Merritt, Rob Neill, Carl Riehl, Maureen Sebastian, Andrea Marie Smith, Dave Spangler, Temar Underwood, Christopher Yustin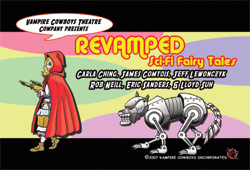 | | | | |
| --- | --- | --- | --- |
| | | | |
| | | | |
fight girl battle world: first bite
Before it became one of Vampire Cowboys' biggest hit productions, it started as a workshop.
Workshop: October 22 & 23, 2007 at The Battle Ranch
Written by: Qui Nguyen
Director: Robert Ross Parker
Organizer: Abby Marcus
Workshop team: Alexis Black, Jason Liebman, Kelley Rae O'Donnell, Bonnie Sherman, Andrea Marie Smith, Temar Underwood