men of steel: the world premiere
In March of 2007, Vampire Cowboys blew up the NYC theatre landscape with their most ambitious project to date - the critically acclaimed MEN OF STEEL. The show followed the journey of five courageous crusaders aspiring for heroism against all odds. Included were the stories of Captain Justice, Liberty Lady, Maelstrom, The Indestructible crossdressing Bryant, and the crowd pleasing antics of Los Hermanos Manos. The interwoven tales combined with Vampire Cowboys' trademark action aesthetic re-imagined and exploded the comic book genre onto the live stage.
Cited as Best Adaptation of Comics into Other Media for 2007
by ComicCritique.com
"A culturally savvy comedy staged with evident joy and expert craftsmanship by Robert Ross Parker. It belongs to the genre of gleefully lowbrow entertainments for overgrown adults. Mr. Nguyen has an appealingly clean style that mixes colloquial slang and hard-boiled detective fiction. A fully realized and contained world that raises the skeptical question: If power corrupts, then what about super power?"
- Jason Zinoman, THE NEW YORK TIMES

"Qui Nguyen is at it again with MEN OF STEEL, his latest action-filled satire, where superheroes and the American Way are taken to extremes that make Tim Burton's Gotham City look like Disney World. Social commentary shares the stage with feats of daring - do as a tryptych of stories spiral towards a wham-bam ending (kudos to Marius Hanford's exceptional fight choreography)"
- Andy Propst, TIMEOUT/NY

"Hysterically cheeky writing, clever directing, incredible fight choreography! A Must See!"
- Foster Kamer, FLAVORPILL NYC

"A hip satire on superheroes and the existential burden of being all-powerful in a world of ordinary people. A BACKSTAGE critic's pick!"
– David Sheward, BACKSTAGE
"MEN OF STEEL makes excellent use of the talents of the company's own dynamic duo (writer Qui Nguyen and director Robert Ross Parker) in a kinetic, hilarious production. The play has fighting, sex appeal, pathos, jokes, and a double dose of Abba on the soundtrack. Truly, it caters to the geek in all of us."
– Lauren Snyder, OFFOFFONLINE

"You will get an enormous escapist kick out of the Vampire Cowboys action packed production of MEN OF STEEL. Drawn from the comic universe of Captain Justice, the characters are embodied by a talented, rough and tumble cast that just loves a good fight."
– Virginia Glynn, THEATERONLINE

"I highly recommend this show! Go see it! It has great geeky elements and homages to Marvel and DC Comics, Heroes, Battlestar Galactica, and many other nerdy things!"
– Jimmy Aquino, COMIC NEWS INSIDER

"Nguyen is brilliant in his homage to comic book lore. Each incredibly versatile and engaging actor elevates the show from campy to political to hilarious. The Vampire Cowboys show that experimental theater can be innovative and entertaining instead of droning and preachy. Go see MEN OF STEEL before it flies out the theater!"
- Samantha Tucker, SHOW BUSINESS WEEKLY
Production: March 15 - April 8, 2007 at Center Stage, NY
Written by: Qui Nguyen
Director: Robert Ross Parker
Producer: Abby Marcus
Fight Director: Marius Hanford
Scenic/Lighting Designer: Nick Francone
Costume Designer: Jessica Wegener
Sound Designer: Patrick Shearer
Weapon Design/Construction: Nathan Lemoine
Graphic Artist: Chris Brown
Assistant Stage Managers: Florencio Palomo & Sharon Walsh
Publicity/Press Rep: Jim Baldassare
Photographers: Nick Francone, Jim Baldassare, Theresa Squire
Cast: Noshir Dalal, Sharon Eisman, Jason Liebman, Tom Myers, Melissa Paladino, Jeremy Sarver, Paco Tolson, Temar Underwood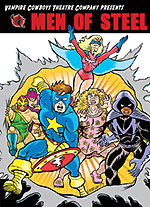 Digital Short from MEN OF STEEL

living dead in denmark: naatf
In June 2007, the mighty mighty Vampire Cowboys closed their amazing superheroic fifth season in style at the first National Asian American Theatre Festival with the highly successful and sold-out remount of their critically-acclaimed show, LIVING DEAD IN DENMARK. This limited 4-performance engagement boasted new fights, new FX including the fan-favorite blood geyser, as well as introduced New York audiences to their newest undead wrangler, Alexis Black. As always, Vampire Cowboys blew it up and left their indelible fang marks on this very important and historic inaugural festival.
"A four-ninja-star spectacle of ass-kicking."
- Kiwa Iobe, FLAVORPILL NYC

"I would like to marry this play"
– Anthony C. E. Nelson, NYTHEATRE.COM

"This is the essence of exciting new theater."
- Joy, SPEAK THE SPEECH I PRAY YOU
Production: June 12 - 15, 2007 at The Beckett Theatre at Theatre Row
Written by: Qui Nguyen
Director: Robert Ross Parker
Fight Director: Marius Hanford
Producer: Abby Marcus
Scenic/Lighting Designer: Nick Francone
Costume Designer: Jessica Wegener
Zombie Masks/Blood & Gore Effects: Chuck Varga/GWAR
Puppet Design/Construction: David Valentine
Weapon Design/Construction: Nathan Lemoine
Composer: Dan Deming
Associate Fight Directors: Maggie Macdonald & Jason Schumacher
Master Electrician/Sound Board Op: Christian T. Chan
Assistant Stage Managers: Florencio Palomo & Sharon Walsh
Photographer: Robert Ross Parker
Cast: Carlo Alban, Alexis Black, Jason Liebman, Maggie Macdonald, Tom Myers, Melissa Paladino, Jason Schumacher, Andrea Marie Smith, Temar Underwood, & Amy Kim Waschke
NY IT Award Nominated songs from
LIVING DEAD IN DENMARK
by Dan Deming & Qui Nguyen
Gravedigger Song
Titania Song
Caliban Song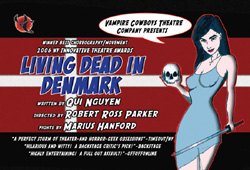 | | | | |
| --- | --- | --- | --- |
| | | | |
new york comic con 2007
In February 2007, Vampire Cowboys brought their unique comic book aesthetic to the New York Comic Con. With an exhibition booth on the main floor along with performances on the NY Jedi Stage, VCTC introduced a whole new populace to the new and wild world of Vampire Cowboys theatre. With special guest Chuck Varga from GWAR at the booth and Vampire Cowboy favorites - Christian T. Chan, Tom Myers, Maureen Sebastian, Andrea Marie Smith, and Christi Waldon - performing, Vampire Cowboys made it clear that comic book theatre is alive, strong, and a force to be recognized.

Production: February 23 - 25, 2007 at the Jacob Javits Center
Performers: Christian T. Chan, Tom Myers, Maureen Sebastian, Andrea Marie Smith, Christi Waldon
Booth: Chris Brown, Sharon Eisman, Amy Garson, Nathan Lemoine, Jason Liebman, Abby Marcus, Qui Nguyen, Melissa Paladino, Robert Ross Parker, Daniel Rech, Andrea Marie Smith, Temar Underwood, Chuck Varga, Amy Kim Waschke

| | | | |
| --- | --- | --- | --- |
| | | | |
| | | | |
revamped: the superhero diaries
In November 2006, Vampire Cowboys continued their fifth season with the second annual installment of REVAMPED. With this year's theme, THE SUPERHERO DIARIES, five of NYC's hottest playwrights blew up the Bowery Poetry Club's stage with their own original spins on the comic book genre. The night, sponsored by Brooklyn Brewery, also included magic by The Amazing Amazini and a new rendition of "The Ballad of the Vampire Cowboys" themesong performed by VCTC's own Dan Deming and Andrea Marie Smith.

Production: November 19, 2006 at Bowery Poetry Club
Writers: Chad Beckim, Andrea Ciannavei, James Comtois, Graeme Gillis, Lloyd Suh & The Amazing Amazini
Directors: Michele Chivu, James Comtois, Jill DeArmon, Graeme Gillis, Michael Gladis, RJ Tolan, Ben VandenBoom
Fight Director: Qui Nguyen
Producers: Abby Marcus, Jessica Kahler, & Daniel Rech
Board Op: Christian T. Chan
Photos by: Nathan Lemoine & Theresa Squire
Performers: Alex Alioto, James Comtois, Dan Deming, Kim Donovan, Jeff Grow, William Jackson Harper, Frank Harts, Di Johnston, Raymond McAnally, Gregg Mozgala, Robert Ross Parker, Ean Sheehy, Ben Trawick-Smith, Maureen Sebastian, Andrea Marie Smith, Ben VandenBoom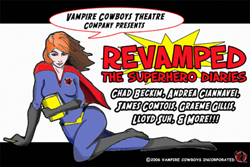 | | | | |
| --- | --- | --- | --- |
| | | | |
| | | | |
| | | | |
men of steel: first bite
In October 2006, the Vampire Cowboys kicked off their fifth season with the public workshop of MEN OF STEEL. The script, featuring the return of one of VCTC's original characters, Captain Justice, created a new gritty comic book universe filled with drag queens, psychopathic vigilantes, luchadore crimefighters, and a barrage of badass superheroic battles. The First Bite presentation performed at The Brick Theater in Williamsburg, Brooklyn.
Workshop: October 17 - 19, 2006 at The Brick Theater
Written by: Qui Nguyen
Director: Robert Ross Parker
Organizer: Abby Marcus
Illustration: Chris Brown
Workshop team: Dan Deming, Jen Nelson Lane, Nathan Lebron, Jason Liebman, Jackson Loo, Tom Myers, Melissa Paladino, Paco Tolson, Temar Underwood