stained glass ugly: midtown international theatre festival
During the Summer of 2003, the Vampire Cowboys brought their brand of entertainment to The Midtown International Theatre Festival. Premiering SGU simultaneously with the West Coast Vampire Cowboys' production of the same show, the festival and Los Angeles runs received many positive reviews and significant box office returns.
From the playwright the Chicago Reader called "A reminder of what's best about Theatre" comes a touching new play about perspectives, relationships, and being really really atrociously ugly. Finally, an answer to the age old question, "Could she still love me if I accidentally blew off the bottom half of my face?" A play that is aesthetically tragic, yet emotionally kinda funny.
"This is a new young company to keep an eye on!"
-- T.H. McCulloh, BACKSTAGE

"The writing is consistently clever, graceful, and provocative."
-- Neal Weaver, LA WEEKLY

"Staged with intelligence and ingenius economy."
-- Martin Denton, NYTHEATRE.COM
Production: July 14 – Aug 3, 2003 at The Abingdon Theatre NYC
Written by: Qui Nguyen
Directed by: Robert Ross Parker
Scenographer: Christopher M. Domanski
Produced by: Jaclyn Gleisinger, Stephen Eshenbaugh
Choreographer: Sarah Maxfield
Onstage Musician: Ian Dunn
Board Op: Temar Underwood
House Manager: Dan Deming

Cast: Mary Kickel, Jesse Teeters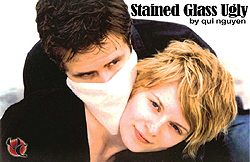 stained glass ugly: workshop production
The original workshop production of Stained Glass Ugly that launched the monumental premiere of the Vampire Cowboys Theatre Company in New York.
Production: April 14, 2003 at Center Stage, NY
Written by: Qui Nguyen
Directed by: Robert Ross Parker
Produced by: Jaclyn Gleisinger, Stephen Eshenbaugh
Scene Design: Christopher Domanski
Music: Elaina Cope
Choreographer: Sarah Maxfield

Cast: Mary Kickel, Jeremy Sarver